Keep up to date with all our events here
Please note that the great majority of groups which book illustrated talks allow visitors to attend, albeit sometimes with a small admission charge. However, we recommend that you check with the group concerned before going along there for the talk. Where illustrated talks have been specifically arranged for the general public, this is made clear in the event details.
Matthew Schellhorn Piano Recital at Doncaster Mansion House - Fri 12 October 2018, 2:30pm
A solo recital given on the Mansion House's historic grand piano, in aid of The Sand House Charity. Interval refreshments included.
Doncaster-born Matthew Schellhorn studied in Manchester and Cambridge. He has a growing international career, which in recent seasons has seen recitals in Europe, Ireland, the Far East, and North America. He has given performances in major venues throughout the UK, including Wigmore Hall and the Purcell Room, and has performed live numerous times on BBC Radio 3. He has also been featured on Classic FM. Matthew makes a welcome return to Doncaster to support The Sand House Charity. The Sand House was a feature of Doncaster's past well known to some of Matthew's ancestors who lived just a stone's throw from it. We are very grateful for his support.
The Mansion House's grand piano was manufactured in the late 19th century, which was also the heyday of Doncaster's unique Sand House. Matthew's recital will include repertoire from the same era, including works by Liszt, Chopin and Scott Joplin. The full programme can be viewed by clicking here.
Tickets are £14 per person, including interval refreshments. Tickets may be purchased from Doncaster Tourist Information Centre, 1 Priory Place (next door to the Mansion House), Doncaster DN1 1BN. Telephone 01302 734309. Email tourist.information@doncaster.gov.uk
Live Music at the Sand House's History Fair stand - Sat 13 October 2018, 10am - 4pm
Live Performances of brand new Sand House songs by Jenkinson-Parks. Join us at the Family & Local History Fair with Craft Stalls, organised by Doncaster & District Family History Society. It takes place at the Doncaster School for the Deaf, Leger Way, Doncaster, DN2 6AY.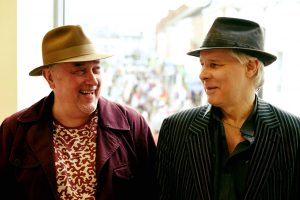 Jenkinson-Parks' performances are free (though there is an admission charge into the Fair) and take place at the Sand House stand at 11:30am, 12:30pm and 2:30pm. Hear new Sand House songs and tracks from their album "Songs Of Our Town".
Many family history societies, heritage groups, craft stalls and commercial organisations will be present at the Fair. Admission £2, including free raffle (accompanied under-14s free).
Illustrated Talk to Isle of Axholme Family History Society - Thur 25 October 2018, 7:30pm
This illustrated talk takes place in at the Wesley Memorial Schoolroom, High Street, Epworth, North Lincs.
Illustrated Talk to Rotherham Chantry Ladies - Wed 31 October 2018, 7pm
This illustrated talk takes place in at Broom Lane Methodist Community Centre, Broom Lane, Rotherham, S60 3NE.
Illustrated Talk to Danum Probus group - Mon 21 January 2019, 10am
This illustrated talk takes place in at Town Moor Golf Club, Bawtry Road, Belle Vue, Doncaster, DN4 5HU.
Illustrated Talk to Bawtry Ladies Fresh Start group - Mon 13 May 2019, 7:30pm
This illustrated talk takes place in at Phoenix Theatre, Station Road, Bawtry, DN10 6PT.